When you see a product with the Fair Trade Certified™ seal, you can be sure it was made according to rigorous social, environmental, and economic Fair Trade standards, and the farmers, workers, and fishermen behind it earn additional money from your purchase to empower and uplift their communities.
Ditch the B.S. & get pHresh... honestly.
Don't sweat the small stuff, but if you do - we've got you covered with all-natural deodorant filled with pre+probiotics. Oh, and baking soda free of course.
Safe Effective Ingredients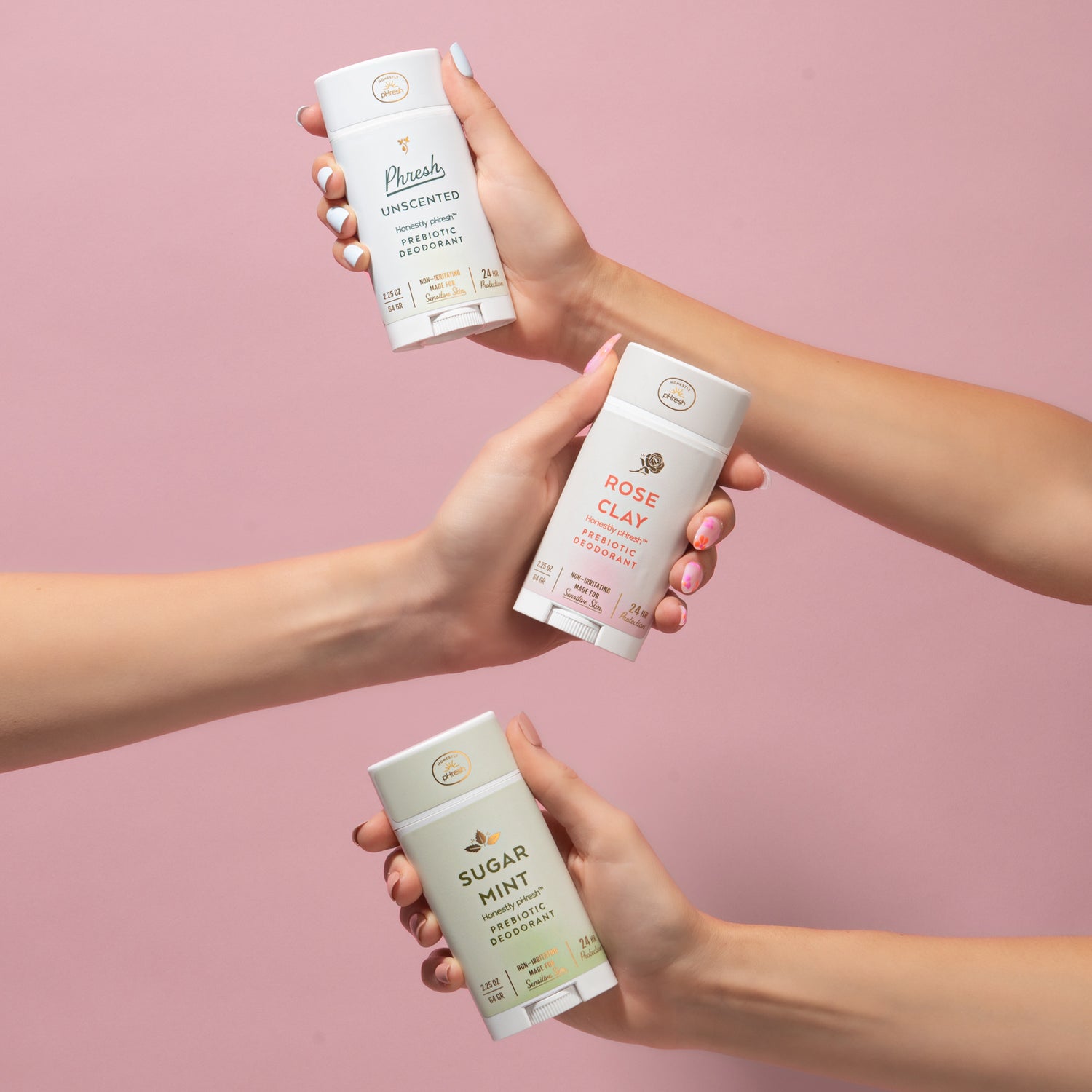 Fair Trade Coconut Oil: A superstar ingredient that is moisturizing, anti-inflammatory, anti-bacterial, anti-fungal, and safe for all skin types.
PS-combined with our triglycerides, we can say this formual will not stain your clothes..WIN!
Zinc Ricinoleate: A highly effective natural deodorizer, Zinc will trap and absorb odor molecules keeping you oh so pHresh!
Alpha Glucan Oligosaccharide: Our prebitotic that promotes healthy bacteria. The more healthy bacteria the less (stinky) bacteria..YES!
Sunflower Wax: Stands out for its essential fatty acids and vitamins A, D and E. It acts as an excellent repairing agent helps prevent oxidation of skin lipids. It's quite hydrating and has calming, nourishing and antibacterial properties.
Arrowroot: A fine gluten-free powder that helps skin absorb moisture without causing dryness or irritation.
Fair Trade Certified: Ensures that supply chain workers are being treated and paid fairly and environmental impact is minimized.
Magnesium Hydroxide: Balances the body's natural pH while preventing odor causing bacteria to flourish.
Salvia Officinalis (Sage) Oil: Helps with inflammation while being antimicrobial, antifungal, and antibacterial.
*Maranta Arundinacea (Arrowroot) Powder, Caprylic/Capric Triglyceride (Coconut-Derived), * Fair Trade Cocos Nucifera (Coconut) Oil, Helianthus Annuus (Sunflower) Seed Wax, Triethyl Citrate, Magnesium Hydroxide, Zinc Ricinoleate. *Certified Organic.
funk be gone!
I love pretty scented deo but I always tended to smell a little funky as the day progressed. I decided to try unscented and I am delighted that I now still smell fresh by the end of the day!!! :D
Phree Unscented Deodorant Stick
HF Unscented Stick
This is a great unscented product. I will continue to purchase in the future!
Good so far
Its good so far! Love the unscented.. the fragrance ones are to strong and didn't like
Lifesaver!
My mother gifted me a Phresh stick for Christmas. I had never heard of the product and was very glad to have received it!
The PHresh stick lasted 3 months and is honestly THE BEST product that I have ever used. Sounds dramatic but after undergoing a full hysterectomy I experienced the worst underarm odor ever. The doctor LAUGHED at my mortification at a follow-up appointment and pretty much said get used to it.
After enduring YEARS of horror and embarrassment I have finally found a product that has COMPLETELY eliminated the problem.
I'm so grateful to have PHresh available to me. The cost is well worth it and the scents are very pleasant.
To the company founders and owners: please, PLEASE, if you are offered a buyout by a corporation, please demand that the formula and ingredients stay exactly the same! I love your product and am so very grateful!