Spray the stank away with the best spritz of your life.
100% natural deodorant that actually does it all. Made for everyone - woman, man or teen - to be convenient & effective
Safe Effective Ingredients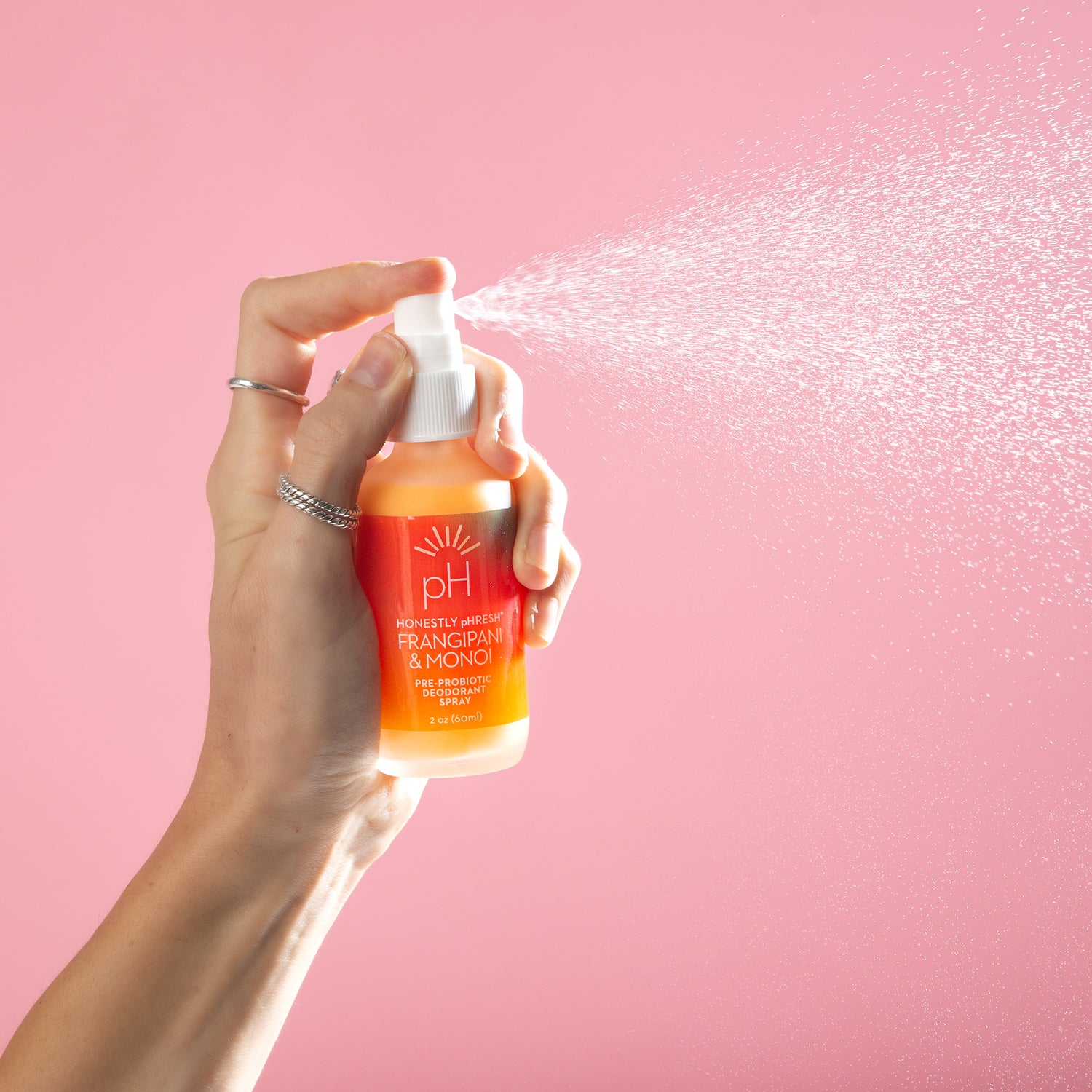 Organic Aloe Leaf Juice: Leaves a protective layer on the skin and improves moisture.
Triethyl Citrate: A natural deodorant that destroys the enzymes responsible for the decomposition of sweat, preventing bad odors.
Lactobacillus Ferment: A soothing probiotic that helps skin's microbiome maintain a healthy mix of flora.
Alpha Glucan Oligosaccharide: A prebiotic that helps regulate the skin's pH balance by encouraging the growth of healthy skin organisms only, not harmful bacteria.
Organic Glycerin: Derived from vegetable oils, it improves the skin's barrier, protects against skin irritants, and hydrates the outer layer of skin.
Persea Gratissima (Avocado Oil): Full of antioxidants and fatty acids to calm, replenish, smooth, and soften skin.
*Aloe Leaf Juice, * Vegetable Glycerin (non-palm), Alpha Glucan Oligosaccharide, Polymnia Sonchifolia (Yakon) Root Juice, Lactobacillius Ferment, Maltodextrin, Triethyl Citrate, Sclerotium Gum, Salvia Officinalis (Sage)Oil, Sodium Caproyl/Lauroyl Lactylate, Magnesium Chloride, Cocos Nucifera (Coconut) Absolute Gardenia Jasminoides (Gardenia) Oil, Plumeria Alba Flower (Plumeria) Extract. *Certified Organic
The best
Clean, pure, and simple. I can't put it any other way, this stuff is just the best.
I have very sensitive skin, so I won't use anything else. pHresh leaves me feeling good, and confident about the way I smell all day.
A must try!
I have been struggling with under arm odor for years after switching to natural deodorant! In my opinion other natural alternatives have made it worse. I was recommended to this brand by a friend and let me tell you, this spray though is the best thing that has ever happened to my body. All scents work equally as good but right now the cedar wood is my favorite. I have never had underarm odor while using Honestly Phresh sprays, they're a little pricy but shipping is SO fast and the product is resilient. Thank you to Honestly Phresh for solving my underarm needs!!
Love this.
I have used your roll-on deodorant for years and was very disappointed when I could no longer find it. This is a wonderful replacement. I apply it liberally because I really love the scent!
The only natural deodorant that I've been able to use.