When you see a product with the Fair Trade Certified™ seal, you can be sure it was made according to rigorous social, environmental, and economic Fair Trade standards, and the farmers, workers, and fishermen behind it earn additional money from your purchase to empower and uplift their communities.
Ditch the B.S. & get pHresh... honestly.
Don't sweat the small stuff, but if you do - we've got you covered with all-natural deodorant filled with pre+probiotics. Oh, and baking soda free of course.
Safe Effective Ingredients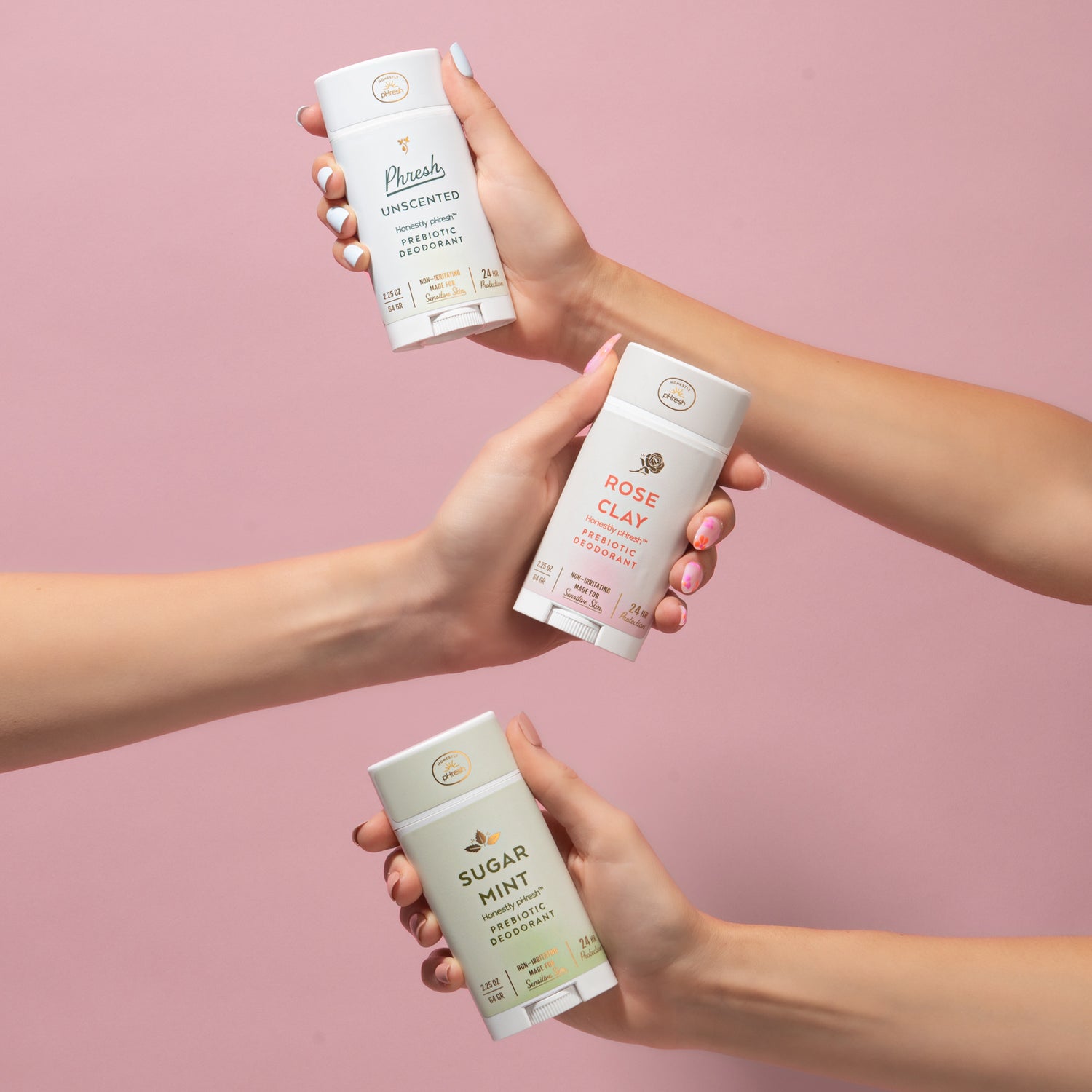 Fair Trade Coconut Oil: A superstar ingredient that is moisturizing, anti-inflammatory, anti-bacterial, anti-fungal, and safe for all skin types.
PS-combined with our triglycerides, we can say this formual will not stain your clothes..WIN!
Zinc Ricinoleate: A highly effective natural deodorizer, Zinc will trap and absorb odor molecules keeping you oh so pHresh!
Alpha Glucan Oligosaccharide: Our prebitotic that promotes healthy bacteria. The more healthy bacteria the less (stinky) bacteria..YES!
Sunflower Wax: Stands out for its essential fatty acids and vitamins A, D and E. It acts as an excellent repairing agent helps prevent oxidation of skin lipids. It's quite hydrating and has calming, nourishing and antibacterial properties.
Arrowroot: A fine gluten-free powder that helps skin absorb moisture without causing dryness or irritation.
Fair Trade Certified: Ensures that supply chain workers are being treated and paid fairly and environmental impact is minimized.
Magnesium Hydroxide: Balances the body's natural pH while preventing odor causing bacteria to flourish.
*Maranta Arundinacea (Arrowroot) Powder, Caprylic/Capric Triglyceride (Coconut-Derived), * Fair Trade Cocos Nucifera (Coconut) Oil, Helianthus Annuus (Sunflower) Seed Wax, Triethyl Citrate, Magnesium Hydroxide, Zinc Ricinoleate, Citrus Aurantium Bergamia (Bergamot) Fruit Oil, Naturally Extracted Fragrance (Per Defined In ISO 9235, Natural Fragrance Created From Natural Isolates And Extracts *Certified Organic.
Great product for odor and sensitivity
I've tried so many different natural deodorants and most miss the mark. This deoderant is different. I've now tried 4 different scents and they all work for odor and my skin has not been irritated. The only drawback is the price. It's a little high in comparison to my second favorite brand.
My go-to! Smells and works great!
nice light smell
works really well between boobs to help fight sweaty tatas...will be rebuying
Better than Schmidt's
I had been using Schmidt's deodorant for a number of years after I swore off from using aluminum deodorants. The baking soda irritated my skin a little bit, but it was something I could deal with. Flash forward to this spring, where my skin could just no longer take it. I had full blown eczema all over my armpits because of the irritation and had to see my dermatologist. I searched for a new natural deodorant and found this one. It smells AMAZING and actually works. No irritation and my armpits are clear once again. I really think they're onto something with the prebiotics. Every deodorant should have them. Give this a try!
Nice and clean
Nice sweet scent keeps you dry and fresh all day no smelly armpits last all day