The unicorn of post-shaving products!
Soothe has the perfect blend of safe, natural oils that prevent post-shaving or waxing irritation, razor bumps, and redness. Silky smooth, at your service!
Safe Effective Ingredients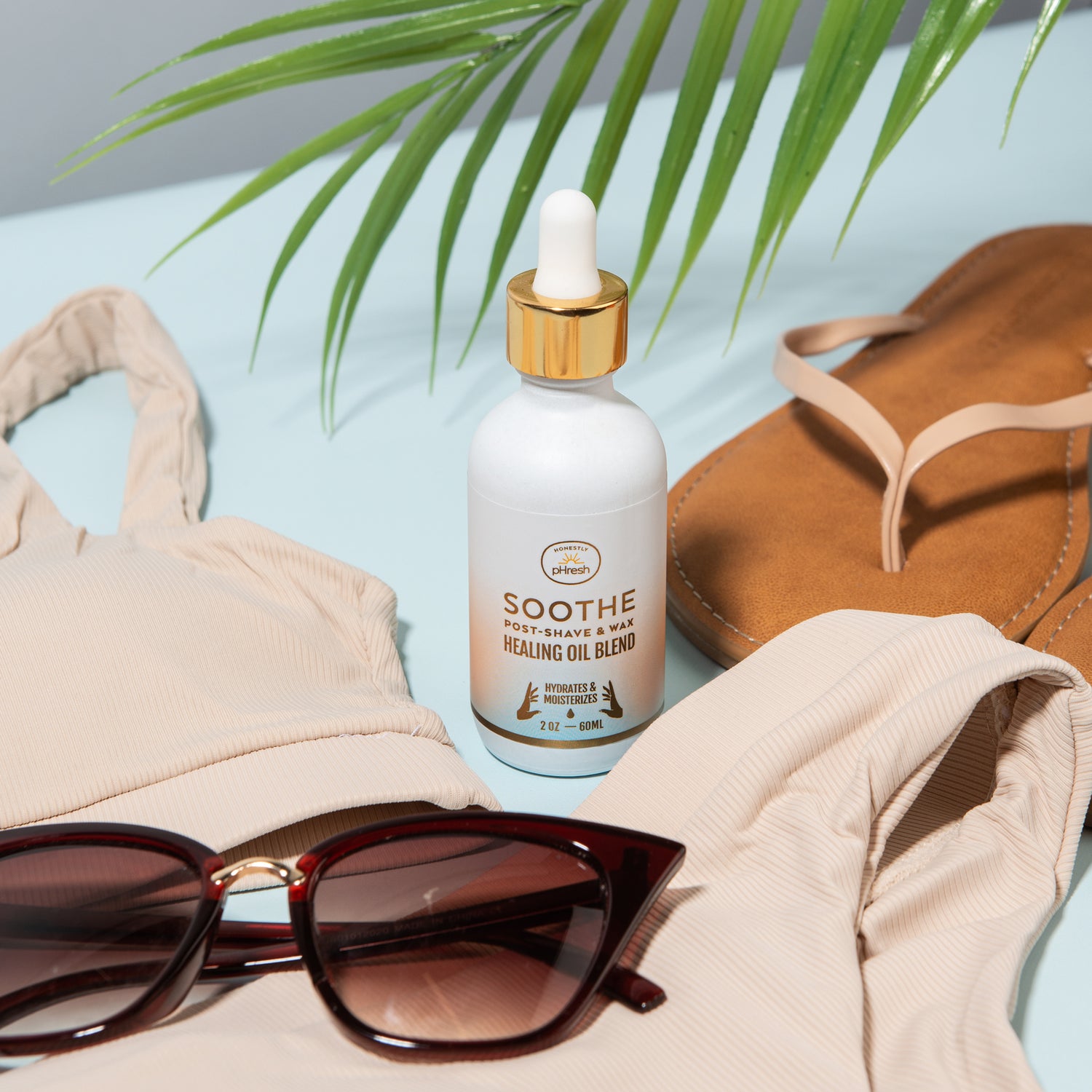 Copaiba Oil: From Copaiba trees, it has anti-inflammatory and anti-microbial properties, while also offering pain relief.
Tamanu Oil: A fatty oil with anti-inflammatory and healing properties that also moisturizes and promotes collagen production.
Tea Tree Oil: Serves as an antiseptic to prevent infection while soothing inflammation and reducing itching, redness, and swelling.
Rosehip Oil: A gentle powerhouse oil that hydrates, moisturizes, and exfoliates while protecting against sun damage, and reducing inflammation and scarring.
Passion Fruit Oil: High in antioxidants and vitamins A & C, this lightweight oil is rich in essential fatty acids and nutrients ideal for soothing dry, flaky skin.
Variety of essential oils: Natural Texas cedarwood, geranium, damask rose, and bergamot essential oils create an elegant and tantalizing scent you won't be able to get enough of!
Passiflora Incarnata (Passionfruit) Oil, Caprylic/Capric Triglyceride (Fractionated Coconut) Oil, Rosa Canina (Rose Hip) Fruit Oil, Copaifera Officinalis (Copaiba Balsam) Oil, Calophyllum Tacamahaca (Tamanu) Seed Oil, Simmondsia Chinensis (Jojoba) Seed Oil, Melaleuca Alternifolia (Tea Tree) Leaf Oil, Tocopherol (Vitamin E),Pelargonium Graveolens (Rose Geranium) Oil, Citrus Aurantium Bergamia (Bergamot)Peel Oil,Juniperus Mexicana Wood (Cedarwood Texas) Oil, Rose Otto (Bulgarian DamaskRose) Oil, and Hibiscus Abelmoschus (Ambrette Seed) Oil.
SO GOOD
i get such bad razor burn and red bumps after shaving down there. i used this product for the first time today and it works so well!! no bumps, no razor burn and the product even smells so good that my boyfriend pointed it out😂 this is the first product that actually worked very well for me so 10/10 recommend especially since it's so cheap for how good it is!!
It really works
I used to always get ingrown hairs after shaving but don't anymore now that I use this oil. Not only does it keep the ingrown hairs away but it smells amazing, definitely keeping on subscription because I don't want to run out. Thanks for making such a few product.
Super surprised
I use this oil on multiple parts of my body. I wax my face and eyebrows bimonthly. Whenever I get done I would put the oil on the locations where I just waxed, and it helped soothe the irritated spots. I used to struggle really badly with facial acne. Because of that, I am very particular about what I put on my face and my skin care routine. I did not break me out or cause any unwanted imperfections on my face. I also would apply the product after I shaved my legs. It caused my legs to be super hydrated and stay moisturized.
Was Skeptical
My skin is very sensitive and I get major skin irritation and ingrown hairs after shaving. I don't shave often as it can take up to 1 week for my skin irritation to subside. Honestly, I bought this product out of desperation and did not expect it to work. I applied this after shaving and my skin stayed smooth… I experienced NO irritation whatsoever. I've now been able to shave several times without any irritation afterwards. I'm now a believer. This stuff works!!
So soothing!
This oil has been fabulous. It is not greasy, and feels so refreshing after a shave!