Spray the stank away with the best spritz of your life.
100% natural deodorant that actually does it all. Made for everyone - woman, man or teen - to be convenient & effective
Safe Effective Ingredients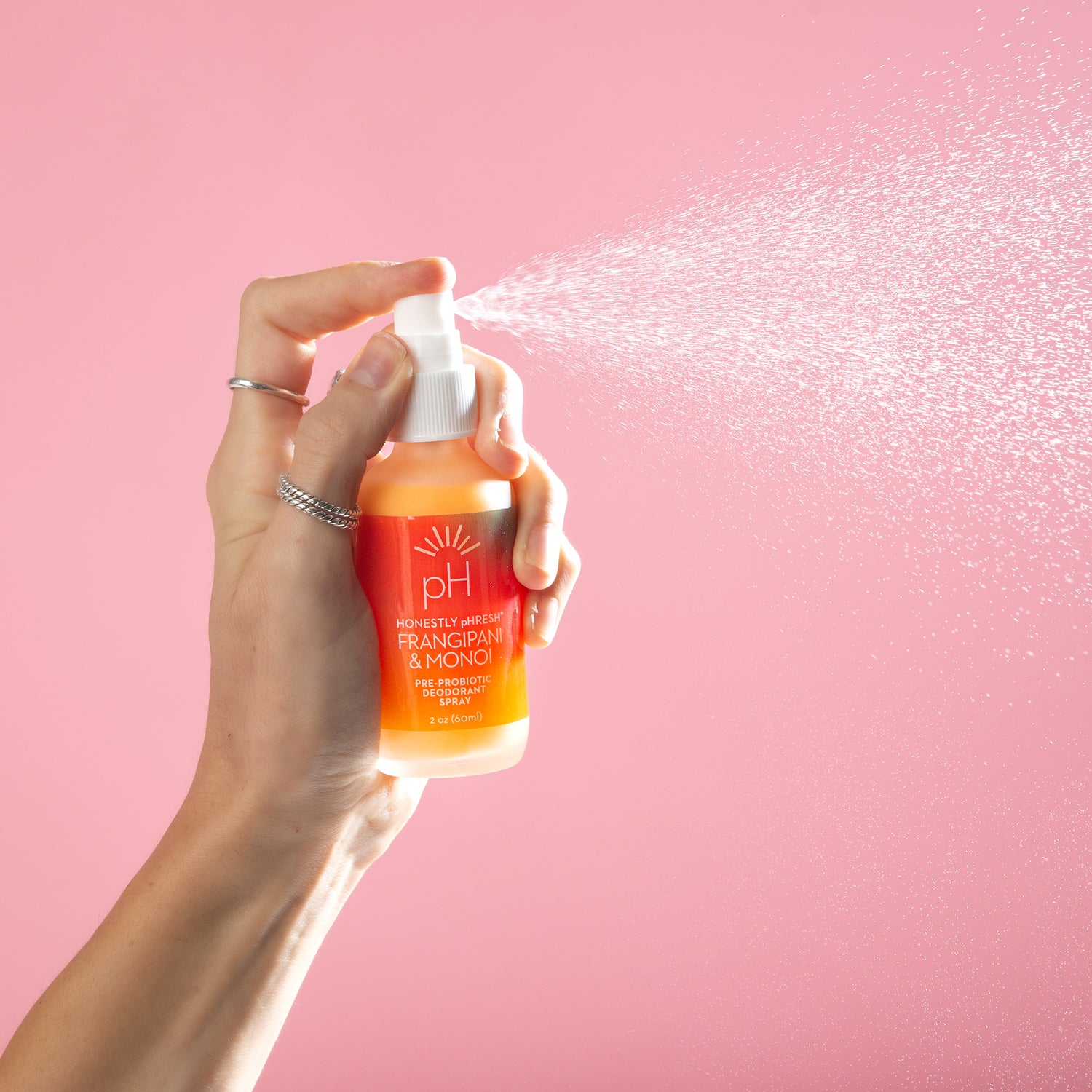 Organic Aloe Leaf Juice: Leaves a protective layer on the skin and improves moisture.
Triethyl Citrate: A natural deodorant that destroys the enzymes responsible for the decomposition of sweat, preventing bad odors.
Lactobacillus Ferment: A soothing probiotic that helps skin's microbiome maintain a healthy mix of flora.
Alpha Glucan Oligosaccharide: A prebiotic that helps regulate the skin's pH balance by encouraging the growth of healthy skin organisms only, not harmful bacteria.
Organic Glycerin: Derived from vegetable oils, it improves the skin's barrier, protects against skin irritants, and hydrates the outer layer of skin.
Persea Gratissima (Avocado Oil): Full of antioxidants and fatty acids to calm, replenish, smooth, and soften skin.
*Aloe Leaf Juice, * Vegetable Glycerin (non-palm), Alpha Glucan Oligosaccharide, Polymnia Sonchifolia (Yakon) Root Juice, Lactobacillius Ferment, Maltodextrin, Triethyl Citrate, Sclerotium Gum, Salvia Officinalis (Sage)Oil, Sodium Caproyl/Lauroyl Lactylate, Magnesium Chloride, Cocos Nucifera (Coconut) Absolute Gardenia Jasminoides (Gardenia) Oil, Plumeria Alba Flower (Plumeria) Extract. *Certified Organic
Amazing smell
This is the only deodorant I've used for 3+ years. I even wore it at my wedding. I love it so much!
Frangipani & Monoi Pre + Probiotic Deodorant Spray
Smells so amazing!
I purchased one of each scent and HONESTLY can't decide which I like the best. The new formula goes on so smooth and works all day - even in the heat!
This is the BEST stuff EVER!
I am absolutely obsessed with all things honestlyphresh! I love all four of the scents I have tried and they WORK!
Love the scent
This scent reminds me of Indian puja. Totally reminds me of home and I obviously love that its all natural and can be used pretty much anywhere on the body.